branding foundation // core messaging // brand identity // website
When Brittany Chibe of Paleo Scavenger came to us with an opportunity to help her paleo-friendly granola break through the clutter of the food industry, we leapt at the the chance. Brittany's passion for her products was a perfect alignment with Moniker's experience transforming brands in the consumer goods industry.
Developing the Brand's Messaging Map
Our first step in this project was to identify the why statement—why create Paleo Scavenger, what gets them up in the morning, etc.? That's how we start every project we work on at Moniker. Once we defined that, we were able to develop the core messages and position statement for the brand.
After creating the messaging map, we realized their name no longer stood for what their brand stood for—so we recommended a change. Shortly after, Paleo Scavenger became Within Without.
Creating the Name and Packaging
Listening to and understanding your own body's needs can be difficult without food running interference. Their snacks are crafted WITHOUT processed ingredients and the junk that clouds the voice WITHIN. This concept is at the core of all their amazing foods, and is behind the brand name and packaging we crafted for their new identity.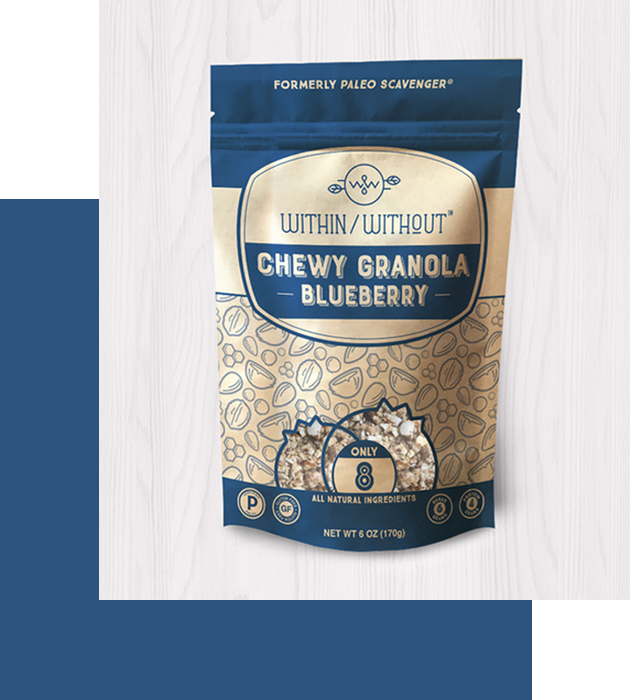 Designing and Launching the Website
Using the newly crafted identity and messaging map, we designed a website for Within Without where health-conscious consumers could find, learn about and buy paleo-friendly granola. The website is built on Shopify, making it easy to customize in the future, responsive for mobile users and stable after updates.

Brittany Chibe, Within Without
Justin and the Moniker team were incredible to work with during my company's rebrand. From naming to defining the essence and purpose, their words were so on point that it gave me chills.
Got a branding project?
We'd love to hear about your brand needs or struggles and help you set some goals. Tell us a little about what you've got going on and we'll get in touch to see where we can go from there.
Email us at:
[email protected]